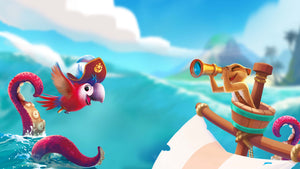 Capt'n Pepe:
Treasure Ahoy!
The Adventure of a Lifetime!
New! The First Cooperative Legacy Game for Kids 6+
More than a game...
An Adventure to Dive Into!
Wondering what a legacy game is all about?
In a legacy game, the game material changes from game to game, most often in a permanent way. Individual game components transform throughout the game as the story develops.
When playing Capt'n Pepe, the treasure map gets covered with stickers, treasure chests get opened, and with each chapter read in the Adventure Book, surprises await as the game unfolds.
Award Nominated
Deutscher Spielepreis
Nominated for the renowned Deutscher Spielepreis (German Toy Prize) which has awarded innovative and educational toys and games for 20 years.
The Melody's captain was born on that very vessel. Pepe knows his crew members inside and out. Watch out, he has a score to settle with Madame Goldtooth!

Capt'n Pepe

A capable leader with a cool head
The newest member of The Melody crew escaped Madame Goldtooth's ship, The Sea Devil. Confident and clever; Mia has a sharp eye.

Mia

A true fighter who goes her own way
A sensitive little fellow who always has his spyglass by his side. Oscar likes to exaggerate and is a bit gullible. He is easily startled and tends to lose his nerve and panic.

Oscar

Always looking out for the crew
Charley is a real character who loves playing around and making people laugh. Only hunger (and being teased) can put him in a bad mood.

Charley

Expert climber and banana fanatic
A real fountain of knowledge, Tuga always thinks ahead and considers her decisions carefully. Pepe trusts her judgment and often turns to her for advice.

Tuga

The crew's peaceful soul
Bob tinkers with ideas until he finds a practical solution. He's happy to help anytime, anywhere.

Bob

A handy craftsman and super swimmer
Raids and plunders the seven seas with her crew of rats. Madame Goldtooth knows no scruples and is feared by all!

Madame Goldtooth

The villainous captain of The Sea Devil
Since a coherent story is told in "Captain Pepe, Treasure Ahoy" and the challenges on the high seas become increasingly difficult, playing with the same people is the easiest way to play. However, there is nothing wrong with playing with different people but you will have to update them as to what adventures have unfolded.
Have you fully covered the treasure map and treasure collection? Excellent! Of course, you can still set sail and play "Capt'n Pepe, Treasure Ahoy" as a "normal" board game. Set your own challenges and choose the modules that you want to combine with each other. What? You say you want to try a game with all the modules at the same time? Go ahead and give it a try... but it won't be easy!
Stay tuned and check this site for updates and new information!
Watch the Instruction Video & Let the Adventure Begin!
Capt'n Pepe Adventurebook & Instructions
Rule Book Download
Download the game instructions for Capt'n Pepe: Treasure Ahoy!
Download the Rule Book
Adventure Book Download
Read the instructions before opening
Download the Adventure Book for Capt'n Pepe: Treasure Ahoy!
Download the Adventure Book